Renovating A Treasured Garden
Old properties and their gardens transport you back to another time, a time when life was hard but not as rushed and hectic.

What is more, they are not trying to transport you to another place they are content where they are, they have belonged for so long they have their own historic roots in the area. 
Time has shaped the trees and plants and worn the paths, the garden is probably alive with butterflies and birds, perfume and colour.
You can't build this sort of charm it develops over time.
These places were built when a tradesman's status in the town was measured by how much care and attention he took with his work.
The style is more seasonal and transient, more ornate and artisan more human scale and elegant.
Depending on the era the structural bones where strong and defined but the overall effect was always soft. Speak with us today
Garden Alternations
Whether you are extending the house or just want to improve a classic period garden we can help.
Recognizing and understanding what is there and the value in what remains is the first requirement. If you have taken the time and effort to extend the house in the period style the same degree of attention to detail and care in replicating the materials and building style should be extended into the garden.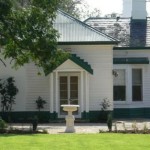 Our plant expertise will help identify the rare and unusual, salvaging what we can prior to building works if it is not too late.
Edging materials, bricks or other existing materials can be salvaged and stored off site ready for refurbishment and reuse.  The hard landscaping elements were different historically too, imperial measurements dominate and the materials available at the time were different to those of today.
We can discuss design ideas and planting schemes in an old fashioned style concentrating on plants of the era and avoiding commonly available 'modern' plants of the 1970's onwards that just don't look right.
We can help you achieve alterations with design advice, drawings and construction. Each project will be different. Simply contact us and tell us about your project and we will discuss how we think we can help.