Black cows, white cockatoos and golden gum trees.
It is the end of daylight savings and we have beautiful autumn weather in Northern Victoria
This is the type of weather that should make the news, not the summer heat but these beautiful warm sunny autumn days and cool nights. The light is softer and the low sunlight makes the gum trees light up and the dry grass glow like it has been touched by the stoke of a brush
The harvested dry land cropping farms are burning off now with the smoke from stubble fires rising up into blue skies making pyro-clouds and orange sunsets.
I love these big broad majestic working landscapes of country Australia.
The recent rains from the autumn break have greened up the pastures.
Now is the time for the elegant Amarylis belladonna to be out in flower, mushrooms to grow in the lawns and time to plant peas in the veggie patch.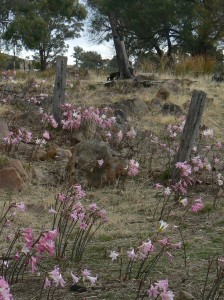 There is something very special about living in country Victoria.