Garden Design Ideas
This day and age there is a real need to get good value out of all the hard, and not so hard, work in a garden!
Time is precious and the issue of maintenance is usually fairly high up on the agenda.  I am a realist and whether you employ gardening staff or do it yourself you must factor in ongoing maintenance requirements when designing a landscape.
Last week a new client of mine stated the obvious and it was great to hear. "The test of a good garden is that it still looks good in five and ten years' time".
Even better she was referring to two gardens that I had designed as examples.
I'd like to share three tips for low maintenance gardens that still make a garden look good. I'm going to save my favourite until last but it is cheating to go straight to number three!
1 Design the layout for easy maintenance.
It sounds sensible but it needs thinking about. Making paths wide enough for trailers and barrows, keeping gaps around hedges for easy clipping, placing taps so that any hoses are easily used are all things that should be incorporated.
To add a few more try putting the compost heap at the lower part of the garden so you are pushing barrows downhill or place the compost heap close to where the finished compost will be used. If you have garden machinery then design to make it useful. Make the lawn ride on mower friendly. This doesn't mean the grass has to be all flowing curves. With some intelligent thinking the layout can include paths and paved corners in positions that allow ride on mowers to be useful even in what appear to be tight internal square corners.
The possibilities are quite extensive. I have used all of the above before with great results. The key is to think maintenance, time and convenience.
2 Choose your materials.
Whether it is plants or hard landscape elements such as paths they will need to be kept in good order to look their best.
Some plants are easy; some are always a little difficult. As a designer we are always on the lookout for easy plants that look special to make the backbone of any landscape. Certainly we can have a few special plants that need a lot of TLC but it is best to keep them for where they really count.
I can't list any plants here because they need to be chosen to suit the local weather, micro-climate and soil and water availability to say anything else just isn't true but what we are looking for is disease resistance and a growth habit that suits our needs. Knowing how they will need to be managed means we can predict the required maintenance and keep it under control.
3 Now to my favourite tip. Extra garden for no extra maintenance.
The easiest garden maintenance is when no maintenance is required at all and this can happen in any garden and not just by simply using elements outside your garden such as neighbouring trees or distant hills.  I'm talking about reflections and shadows.
It took me a few years to start seeing the amazing value of these but now I incorporate reflections and shadows as a normal part of my designs and this can almost double the value at no extra work. The value of reflections and shadows has increased in recent years as the amount of glass in buildings has increased and with the prevalence of flat rendered surfaces.
What is more there is a certain romantic beauty about reflections and shadows.  Enjoy!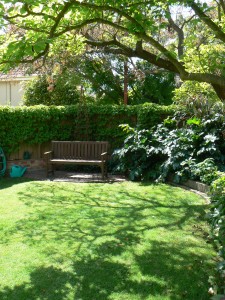 Roy Roberts