Living shade- time to prune the ornamental grapes
There is something about living shade, it is cool, relaxing, and elegant and every year it is fresh and new. There are not many products in this world that come with a guaranteed replacement old for new, every year, for free, but that is what you can expect with deciduous climbers.
Here in south east Australia it is time to prune ornamental grapes to make way for new spring growth.
There is something very 'right' about shade that grows when you need it and is gone when you want the sunshine and this is exactly how it works with deciduous climbers like the ornamental grapes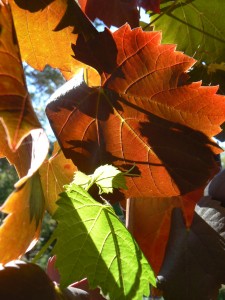 Shade from living plants is so much more interesting to look at than dreary machine made shade cloth and sails that might look good for a few years but that eventually disintegrate in the sunshine leaving bits of plastic 'dust' to litter the environment.
Instead of fixed and solid shade materials shade through leaves is always intriguing as there is always something changing with the sun, the light or the breeze.
Pruning ornamental grapes is easy if you get the underlying structure right. Aim for main branches far enough apart to easily get between with your shoulders. This makes pruning easy and enjoyable. Simply cut back the shoots to a short stems along the main branches. It is that simple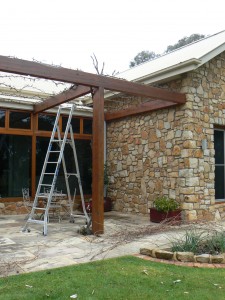 Once you have done the pruning you will be left with some long lengths of vine that can be up-cycled into something else. Weaving it is possible as you can see with the ball-vase and vegetable baskets I have made in the photos.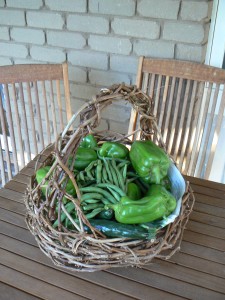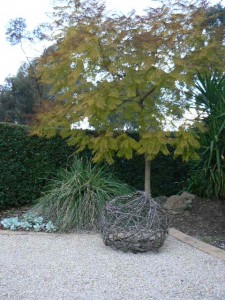 The material is more stringy than stiff so the finished product always seems a little flexible even after a year.
Tips- keep it simple
DO NOT create an overhead structure from a mesh or anything similar. If you can't get up amongst it to prune you will end up with a tangled, twiggy mess.
DO NOT plant too many for the space. One ornamental grape will spread up to 20 metres or more. Allow space for an ornamental grape to spread six metres each way.
DO NOT twin the stems around the posts of the structure and lay the main stems you are training along the top of the structure. Keeping the framework of the plant to the top and outside allows you to move the climber away to facilitate painting or maintenance of the structure. A well grown plant is likely to outlive any man-made structure so leave room for it to be replaced.
As spring progresses to summer heat you have a choice to let the stems dangle down the edge of the framework like a curtain or trim it higher if less shade is needed. The curtain effect really emphasises the graceful weeping effect of deciduous climbers.
Enjoy